15 Male Blogger "Hotties" You Should Know About in 2011
Seriously?! Marlee, are you really going there? Yes, yes I am!

We are hard-working women entrepreneurs busting our butts to kick-butt online, and I'd say we deserve a little online business eye-candy. Besides, you know the song! "Girls just want to have fun!"
Below I've created a list of men that are much more than just "hotties." Some are married, some are single, and some we'll never know. Nonetheless, they're all "hotties" because their websites prove it's so!
Their websites are incredible resources, endless entertainment, and creatively captivating. This list isn't about looks and lust; it's about online gusto and guts.
The bottom line is they've got the hot stuff, or so I'd say they do.
Check them out and let me know if you think so too!
(I have no idea what's up with the rhyming but it's coming naturally, so work with me. I think that's the last of it.)

Here's the list:
Why He's Hot Stuff: Hesham is the owner and founder of FamousBloggers.net, a multi-author blog fueled by guest contributions that strive to teach the community how to blog and make money doing it. Hesham has demonstrated the power of group blogging, and despite the saturation of "make money blogging" blogs, FamousBloggers.net is a rapidly growing (and already strong) community that gives bloggers everywhere the opportunity to leverage the power of community-based blogging. Ranked #41 in the AdAge Power150, FamousBloggers.net is hot, hot, hot!
Why He's Hot Stuff: Chris has a gift for inspiring people to see that they can really live life on their own terms. Pushing his way toward World Domination, Chris holds fast to the belief that you can serve yourself while serving others. Using new media, Chris has built a powerful online business that fueled the release of his book The Art of Non-Conformity, of which 100% of his author proceeds earned during his 97 day book tour were donated to his charity project in Ethiopia! His commitment to helping more people, and challenging authority (the right way), is proof that one person really can make change in the world. Don't go another day without having Chris's guide 279 Days to Overnight Success, it is brilliant!
Why He's Hot Stuff: Well for starters he's got this incredible contagious energy that literally sucks you in. Don't believe me? Check out his solid branding advice in this video. His enthusiasm and "seize the day" vibes just jump out at you. Mars also writes compelling content on his website that proves he's not afraid to disagree with the masses, and that he truly understands the power of influence. If you're look for an example of a personal brand that is truly unique, Mars is your man. Oh yeah, and he his own entry in the Urban Dictionary – for realz.
Why He's Hot Stuff: Founder of Pushing Social and creator of The Seven Minute Blog Strategy, Stanford helps his readers navigate social media by teaching them how to tell authentic stories that people actually care about. Stanford took the blogosphere by storm appearing on big blogs like Copyblogger, ProBlogger, and Social Media Informer. If you use blogging to develop relationships with your customers and increase the visibility of your business, Pushing Social is a must read for you. Plus, if things with your blog aren't working like they should, you likely need a Seven Minute Blog Strategy session. Go check it out today!
Why He's Hot Stuff: Read his about page…nuff said. Hands down, I think Clay has the best "about" page I've ever read…and I've read a lot, a lot, a lot of them. An online marketing fanatic, Clay just does what he's best at – marketing. Creator of the Presell Formula, Clay helps online entrepreneurs create products that pretty much sell themselves before they even exist! Sounds pretty unbelievable, huh? Well find out for yourself when you opt-in for his blog updates here. I've coined him "Clandestine Clay" because you'll be amazed at the number of solid names in online business he's "in" with. He's taking a modified approach to online marketing that pretty much ups the ante for everyone.
Why He's Hot Stuff: Mr. Howes has brought new meaning to the power of LinkedIn for business professionals everywhere. Founder of the SportsNetworker.com (a social networking site for those pursuing sports industry careers), the Sports Executive Association, and co-founder of MagneticWebinars Lewis helps grow businesses, careers, and sets one heck of an example. Embodying the concept of "overnight" success, Lewis' hard work and phenomenal resources confirm that he is a go-to guy in this industry.  And let's be real, you've gotta love those guy-next-door dimples!
Why He's Hot Stuff: Michael Dunlop may be one of the youngest "hotties" on our list. Michael is the creator of the popup software we all love to hate Popup Domination (I use it, I love it, you should too). Michael has created multiple websites, a program for young entrepreneurs, and software, all by the age of 21! Already, Michael understands that the key to successful entrepreneurship is not just about starting a business and making money, but it's about solving problems.  Michael is obviously blessed with incredible intelligence and ingenuity, so you're going to want to keep this one on your radar. I'm sure whatever he's got coming down the pike will be good stuff.
Why He's Hot Stuff: Being that self-discovery is part of my thing, I've really enjoyed watching Henri grow Wake Up Cloud right before my eyes. A cross-pollinization of personal development and professional blogging tips, Henri has broken down the pursuit of his passion for everyone to learn from. Again, Henri is a blogger who demonstrates that quality content, a fresh perspective, and transparency will enable you connect with your ideal audience. If you'd like a snapshot of Henri's hotness, check out his post The Best of Wake Up Cloud 2010. Take notes!
Why He's Hot Stuff: A proofreading and editing Official, Shane primarily runs the show over at Creative Copy Challenge. Creative Copy Challenge is a great place to practice your playful writing skills and bust through an episode of writer's block. And, if you're just looking for a little positive encouragement, you're guaranteed a virtual welcome, pat on the back, or kudos from Shane for participating. Do you think you're up for the creative copy challenge? Well, I bet you can't….
Why He's Hot Stuff: I don't know exactly where Mr. Higbee came from (perhaps a rock or ice mountain), but let's just say he came out guns blazing. Tristan's blog is growing in popularity pretty quickly and he's proof that a fresh voice, helpful articles, and little creativity go a very long way. Blogging is not dead, and the blogosphere is not too crowded if you're worth getting heard – even if you're blogging about blogging! Not to mention, he has five free killer e-books that you can snag with no opt-in required. Transparent and friendly, you can learn a lot from Tristan and make a cool new online bud.
Why He's Hot Stuff: Because there is no such thing as passive income! Unless, of course, you're Pat. I first came across Pat via his LEED certification study course online. I can't recall why exactly I was searching for LEED related materials, but I distinctly remember thinking "this is a good niche site." And, I distinctly remember Pat. Fast forward three years and not only does he have an online business that truly generates passive income, but he shares his experiences over at The Smart Passive Income Blog where he hosts niche site duels, gives you a sneak peak at his site earnings, and shares amazing traffic generating strategies. If you're a looking for a guy who goes above and beyond to take care of his audience, you're looking for Pat. And who doesn't love a guy that features a picture of him rockin' a baby carrier (child in tow) on his homepage!
Why He's Hot Stuff: Where do I start?!?! David's website The Rise to the Top is an INCREDIBLE oasis of entrepreneurial wisdom. Home to interview after interview of entrepreneurial success stories, Rise to the Top is my first stop for getting advice straight from the horse's mouth. David also recently released his book Smarter, Faster, Cheaper, which shares how small businesses can market more effectively using new media and more. It's on my to-read list, but based on the free preview chapter I snagged it's safe to say that this book is going to become part of my staple marketing diet.
Why He's Hot Stuff: Oh Clément! How we love thee. Clément has an incredible ability to truly "connect" with people he's never met. I don't know much about Clément from a personal standpoint, but he always makes me feel like he genuinely cares (a widely-shared sentiment). A writer for The Huffington Post and Social Media Examiner, Clément is also Founder and Co-Director of Easisell – a creative marketing and design company that develops powerful digital marketing strategies designed to do one thing – convert customers. Converting your customers is key to your cash flow, and Easisell shows you just how to keep the cash coming. You can get their free e-guide that includes a "Step by Step Action Plan for Digital Marketing Success" here.
Why He's Hot Stuff: If you want to learn what it takes to build a technically solid blog or become a freelance blogger, you need Paul. This blogging teacher consistently offers practical tips on how to effectively manage and build a solid blog – especially from a technical standpoint. From JustTweetIt.com – How to make a directory website using WordPress to You Won't Make Money by Just Blogging, Paul covers a variety of blogger-related topics that will help you step up your game instantly. Personally, I love his tutorials. Paul has a real knack for making things easy to understand and he's very generous with his knowledge. Who doesn't love that?
Why He's Hot Stuff: Because Dustin loves his marriage! Dustin runs the show over at EngagedMarriage.com where he helps others discover how to have an extraordinary marriage. Being a younger married professional myself, I find many of the resources on Engaged Marriage refreshing, realistic, and even a little racy! If you're a married person, or hope to be one someday, it's important to recognize the importance of nurturing one of the most important relationships in your life. When the primary relationship in your life is healthy and happy, you and your business will be much healthier and happier too. And from a business perspective, Dustin is an excellent example of how to take a personal passion, use it to benefit others, and make a couple bucks along the way. I'd say he's found a sweet spot.
Well?!?! What do you think? Do you have a fave? Did I miss someone smokin'? Show some love in the comments section below. Can't wait to find out who you've got the "hots" for! Bromances welcome. 😉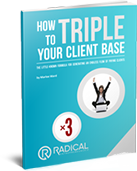 Enter your email to get your FREE marketing guide and training now.