Self-Employment: The Foolproof Formula For Finding A Profitable Business Idea
If there is one thing that stumps people the most when it comes to "going self-employed" it's finding a solid business idea. In fact, one of the most popular posts on this blog is 51 Online Business Ideas for Female Entrepreneurs. And as it turns out, guys love some of the ideas on that list too.
Finding a profitable idea isn't really all that hard, but it requires doing some research, testing a few things, and getting out of your comfort zone. Today, I'm going to walk you through the formula I use to help clients find a truly profitable idea.
Finding a Profitable Idea So You Can Become Self-Employed
Finding a truly profitable idea consists of four major parts. First, you need to assess your skills to determine which skills you possess that you enjoying doing, that people will pay you for, and that you can eventually leverage. This will serve as the foundation for your profitable idea.
Second, you will need to select specifically who you are going to offer your services to.
Third, you must test your foundation by seeing if there are real people, in the market you've selected, looking for whatever it is you have decided to offer.
Fourth, you need to go out and obtain at least three paying customers for your service. Yes, this is the one that requires you to get out of your comfort zone.
Assessing Your Skills & Determining Who You Are Meant To Serve

The way to turn your skills into profitable ideas is to figure out how you can convert your skills into a desirable service. Determining exactly who you're meant to serve is an exercise all by itself, but for now we are simply going to look for people who would be the best fit for your proposed service.
Start brainstorming the kind of people that would want what you're offering. Think of people who have a need, problem, or fear that you can meet, solve, or make go away. Make a list that includes their basic demographics and where you can find them. Once you know who you'd like to offer your proposed service to, go to the next step.
Is This A Viable Market?
Assuming that you know who you're going to serve, it's time to determine whether or not they're a viable market. So now you're going to research whether or not there are other businesses already serving the people you want to serve in a similar capacity. If you can find these businesses (i.e. your competitors) this is a good sign, and you should proceed to the next step.
As counter-intuitive as it may seem, the presence of healthy competition in a particular market means that it's likely that those in the market are making money. If you think you've cooked up some genius idea, and you don't have a single solitary competitor – think again. Lacking competition in a market is a gigantic waving red flag – retreat, retreat, retreat!
The next step is to determine whether or not these people you are meant to serve have the ability to pay you for what you are offering. For example, if you selected life coaching for college students as your most marketable skill, you need to ask "Can college students afford my life coaching and would they be willing to pay me for it?"
In this example the affordability issue may not be a huge stumbling block. There are plenty of affluent college students who could ask their parents to pony up the money to get some life coaching so that don't end up back at home after graduation, but the bigger issue is whether or not they would be willing to pay you?
How many 19 and 20 year old people do you know who are looking for guidance in figuring out what is best for their life? There might be a handful, but the great majority of them are too busy playing beer pong, going to football games, and pulling all-nighters to care about their "purpose." It's much more likely that these college students would rather spend their (or their parents) money on something other than life coaching. Hit them up when they've hit 25 and quarter-life crisis is in full effect.
The key to this exercise is finding a market that wants what you have, can afford what you're offering, and is willing to pay you. Nothing else matters. You can't move forward until you've nailed this section.
Getting Real & Getting Paid

By now you should know what you want to do, and who you want to do it for. You also should know that these people want what you're offering(the more they want it the better), can pay for it, and are willing to put down some cold hard cash for it.
It's time to stretch yourself a little, because if you're serious about becoming self-employed you are going to have to stretch yourself a lot – so you better get comfortable with it now.
The first thing you are going to do to "get real" with your idea is talk to REAL people in your target market and ask them what they think about the service you are offering.
Note: You are not selling here – don't freak out. You are simply asking real human beings, who fit your target market, what they think about your product/service and whether or not they would buy it for a specified dollar amount. Then furiously take notes on everything they say.
Your objective here is to find out if your product/or service actually meets the need, solves the problem, or eliminates the fear you've set out to fix. Ask your prospect questions that will yield information that confirms that they want what you have, can pay for it, are willing to pay you to do it, and that you can in fact deliver on your offer.
You will want to speak to at least three prospects in this manner. Once you've gathered all of your data take a look at your results and decide whether or not you have enough evidence to suggest that you could sell your offering successfully.
The second thing you must do is get paid for your offering (if you successfully completed the prior step).
To get paid for your offering, you need develop some sort of proof that you can do what you say you can do. The easiest way of developing this proof is to offer your product/service for free to someone in exchange for a testimonial.
This is important for two reasons. First, it allows you to do a trial run on your product/service so that you can work out any kinks and uncover any hidden snares you didn't foresee (and there will be some!).  Secondly, you can take the results of the work you completed and create a case study and testimonial that can be used to help you sell your product/service to your next paying client.
I should also mention that in some cases, these first non-paying clients become paying clients if they think you're great and had an excellent experience.
Once you've gotten your first gig complete (or as complete as is needed for a case study), then you are going to go get yourself your first few paying clients.
There are three primary methods for getting your first few paying clients. They include: direct contact, partner referral, and competing in a freelance marketplace. Let's cover them briefly.
Make Direct Contact
This method works exactly as it sounds. You are simply going to have to step up and directly contact prospects that are a perfect fit for your offering and offer it to them. Executing direct contact pitches is a learned skilled that requires tact and boldness in the same step.
When making direct contact with a prospect, first be sure to do some research on them. Know exactly how your product/service can be of use to them, and take time to craft your message so that it is personal and compelling.
It is also best to try and establish contact with this prospect in some way (using social media perhaps) prior to sending your pitch. You will need to make at least 30 direct pitches in this manner to yield some results. Don't attempt three direct pitches, get three rejections, and call it quits. You'll have to persevere much more than that!
Connect With A Referral Partner
What partner, right? Don't take the term so literally. Over time you will want to build a network of referral partners for your business, but for now your referral partners are people you know. Friends, family, former co-workers, current co-workers and anyone who knows other human beings will serve as your referral partners for now. Contact these people and ask them if they know of anyone who would be interesting in your offering. If so, ask for an introduction and then craft a compelling and personalized offer as suggested above.
Competing in a Freelance Marketplace
Freelance marketplaces are places like guru.com, elance.com, scriptlance.com, and odesk.com. There are others, but in my experience that is where I have found the most reputable self-employed freelancers. This method is the least risky of them all, and also the most challenging. The freelance marketplace is fairly competitive, and if you're in the United States you are going to find yourself bidding for jobs that others are charging pennies on the dollar to get.
Don't let this discourage you. In almost all cases you get what you pay for on those sites and the frequent users who hire from them know this. Your task is to create a killer profile with your case study to boot, and actively search for newly posted jobs. Respond to jobs that fit the bill with a well-written and compelling request for consideration. The rest will take care of itself. I had a client build a 6-figure web design firm that she started with an e-lance profile.
One word of caution regarding this method – don't think that this is the easy road and avoid the other two because they make you uncomfortable. Direct contact and referral partners are the fastest way to get clients when you're brand spankin' new. It's scary, but if you're going to do this self-employment thing for real – you better get used to it.
So that brings us to our original pursuit: How to Find Your Most Marketable Skills & Build A Business Around Them.  If you follow the protocol set forth here and landed three paying clients at the end of it, you now have a solid idea upon which you can build your very profitable business.
Now it's time to put together your essentials. This would include your one-page business plan, your marketing plan, etc.  Although that might sound "out of order" it will save you months of useless guess work and a whole bunch of heartache. Planning around a strong idea is the cornerstone of your success, so take the time and energy to figure out what that is first. Then put the rest in place.
Your Step-By-Step Guide to Finding Your Most Marketable Skills & Building A Business Around Them
Now what kind of coach would I be if I didn't leave with plan of attack? To implement the things I've covered with you here just right-click here and download a shiny customizable blueprint that I've created just for you! Who has got your back, eh?!?!
I'd also love to know what you think about this formula. Do you think it's something you can do? Have ever tried something like this before? What scares you the most about carrying out these suggestions? Which stage are you in now? Let me know in the comments below!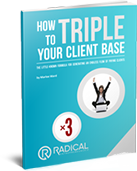 Enter your email to get your FREE marketing guide and training now.