How to Take Your Online Business from Itty Bitty to Huge Success
Online Business Success: Observations based on IttyBiz
If you've never heard of Naomi Dunford of IttyBiz, you should. Quite frankly, Naomi is a marketing genius. Hands down she has one of the best blogs on the Web. If you have or want to build an online business with any measure of success you need to read IttyBiz.
Why? Because Little Miss IttyBiz is informative, honest, and she knows her stuff. If she didn't, she wouldn't have the sustainable online business that she does today.
Disclaimer: I don't know Naomi Dunford from Adam. My only interactions with her and her IttyBiz have been buying her stuff, becoming an affiliate, and reading her content till my eyes bleed. As such, it's hard for me to write this without it seeming like I'm just kissing ass. However, what I have to say about her and her online business is based on every analytical neuron in my being.
And I for the record, I used to be an attorney so I can be viciously analytic.
So what is my point?
My point is that you can have IttyBiz-like success simply by analyzing and applying the very methods Mrs. Dunford uses herself.
One thing that fascinates me about IttyBiz is that it has a cult-like following, you know like cool movies (not like whacked religious groups). Naomi does more than market the hell out of her business or get you to buy her stuff. Naomi gets you to buy her stuff, makes you love her when you don't even "know" her, and then she keeps you wanting more. If she can continue to do this, this chick will never be out of business.
So this got me thinking. What has our favorite home business marketing potty-mouth done to create this type of online business sustainability?
Well she's done a lot. But here's a few standout tactics that come to mind:
Recently, Naomi's husband (Jamie) allegedly had a birthday. As is tradition on IttyBiz, every year on Jamie's fake birthday Naomi holds a buy one get one free sale. It's a brilliant idea for a multitude of reasons that I won't blather on about here, but my point is that everything Naomi does is marketing, except it doesn't feel like marketing.
Why is that? How does she do this?
First, everything Naomi does on IttyBiz essentially does two things. It either demonstrates to you that she knows her stuff or it builds your level of trust with her through her knowledge, transparency, and consistency. In turn, when she holds events like her most recent BOGO her people are ready to buy.
Take Away Lesson 1: Marketing your online business is about establishing trust and demonstrating knowledge to your current and prospective customers. And, if you can make your marketing activities fun and entertaining, people won't feel like they are being "marketed" to and might actually give a damn and pull out their wallet.
2. Use vulgar language and make confusingly erotic references on your blog with relative regularity to help establish your unique brand.
If you're a regular reader of IttyBiz you know exactly what I'm referencing. If you're not, here are some post titles that will help you get a clear idea:
A Home Business Marketing Lesson For My Local Sex Shop
Duct-Taped Breasts, Hairy Mangoes, and New Kids On The Block
Moral Of The Story: Topless Edition (With Photos!)
Jokes aside, IttyBiz is an exceptionally unique marketing resource for small (like really small) businesses.  Naomi has established a rock-solid unique brand by delivering entertaining, educating, and empowering content to her readers and customers on a consistent basis. She uses creativity in her post titles to garner attention, and she uses humor and a lot of transparency to keep readers attention. Most of all, she almost always gives you something of value when you digest her content – even if it's just that you laugh your head off or feel like you know her just a little bit better.
When I think of IttyBiz, I think of no-nonsense, entertaining, and practical marketing advice that actually works. Why do I think this? No! I'm not brainwashed. I think this because Naomi is consistent.
Naomi sets out her expectations of IttyBiz for you, and then she seeks to meet that expectation time and time again.  It's a cycle, and it works. It adds another layer of trust to her products and services. It shows you that she actually gives a hoot. The more you trust her, the more inclined you are to buy her stuff and the stuff she recommends. That sums it up with Naomi.
Take Away Lesson 2: Decide what level of expectation you want your current and prospective customers to experience, and commit to delivering that experience all of the time. Create a brand that appropriately reflects you and your business, and that enables you to truly connect with your current and prospective customers so that you can develop an "intimate" relationship based on trust.
3. Become an SEO ninja, write headlines that turn heads, and make it easy for people to buy your stuff.
No sarcasm there. It is evident that Naomi has mastered these skills with her IttyBiz. She is not just smoke and mirrors. She uses the fundamentals of building a successful online business tirelessly. If you don't a have a copy of SEO school, click this link now to get it, then come back and leave me a comment.
The content of SEO school is so valuable to an online business owner. It gives you the fundamentals in a way that a 10-year-old can understand them. You'd be foolish to be without it.
That said, clearly Mrs. Dunford practices what she preaches. As of October 15, 2010, IttyBiz has an Alexa Traffic Rank of 27,514, a US traffic rank of 6,166, 533 sites linking in, and over 24,000 monthly stalkers readers. I'd say she's doing something right.
As noted above, Naomi is fearless at creating curiosity with her headlines and it pays! Sometimes I know I'm being lured in by her headline alone because even when I've consumed enough marketing goodness for the day I feel compelled to click. Compel your target market to click. This is the first step towards building loyal customers.
Also, make it easy for people to buy your stuff. When you hit the IttyBiz homepage there is a link to the "Store" in the navigation bar. Along the right side of the core content is a sidebar filled with lovely icons that call you to click and make a purchase. There is no hunting for a link on IttyBiz. There is no mistaking that Naomi wants to sell you something. As obvious as it seems, this approach goes a long way in putting cash in your bank account.
Take Away Lesson 3: You have to master the basics to get your online business off the ground. It's okay if you're still learning, that is why there are websites like Copyblogger, IttyBiz, and ProBlogger. Your first priority is to establish the fundamentals into your business model and keep at them. There are no real shortcuts to building an online business. It takes a crap load of work. Period. Make your life easy and do the "hard stuff" so that the "hard stuff" becomes easy.
So, Little Miss IttyBiz grew her very successful online business right before your eyes at her itty bitty blog. What do you think has contributed most to her success? I know I'm missing many other elements, so help me spot them! Point them out in the comments section below.
Oh yeah, and the links for SEO school are affiliate links. If you purchase through my link, I get a tiny cut.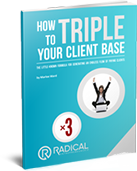 Enter your email to get your FREE marketing guide and training now.