How To "Have It All Without Doing It All"
Posted by

in

Uncategorized
There comes a time in every successful entrepreneur's journey where the growth of your business feels like both a blessing and a curse. The privilege to serve more people brings greater fulfillment, and the increased income brings an ability to be of greater impact. But the demand can easily outweigh the rewards if you don't have right growth mindset and practices in play.
Without the right growth mindset and practices in play, it's very easy to lose your focus on the very thing God has called you to in your business. It's very easy for the blessing of growth to feel like a curse. So how do you maintain your focus on the things you've been called to while growing your business?

Well, in today's podcast I'll show you. Today, we'll talk about the only way to "have it all without doing it all," and why God actually wants it that way. You'll see some key biblical principles that show a need for this practice, and I'll give you an easy method for figuring out what you must hand off in your business if you ever plan to grow.
Resources mentioned in this podcast:
Scott Williams – Big is the New Small
The 4-Hour Workweek: Escape 9-5, Live Anywhere, and Join the New Rich (Expanded and Updated)
Would you like to be featured in a "Rising Tide Spotlight?" If you think you've got something special the world should know about, I want to hear about it. Leave your nomination in the comments section below and if you make the cut, I'll be in touch!
Have a question or comment about the content in this podcast? Want to discuss this week's "Word for the Week"? Feel free to use the comments section below this post to share your thoughts and insights.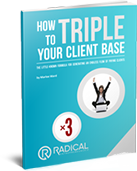 Enter your email to get your FREE marketing guide and training now.